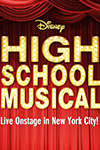 Disney's High School Musical
- Theatre Row - The Clurman Theatre
Disney's High School Musical is live on stage in Times Square in New York! If you loved the movie, you'll love the stage version. High School Musical is guaranteed to have you singing and dancing along.

Highlights:
- Experience High School Musical live on stage
- Listen to all of the hit songs from the movie
- Enjoy the fun and energetic performance

Disney's High School Musical is live on stage
Disney's smash hit movie, High School Musical, comes to life on stage in this energetic and bubbly live performance.

Troy, Gabriella and the students of East High must deal with issues of first love, peer pressure, and balancing their classes and extracurricular activities. Can you be an all-star jock and be in the school musical, or do you have to "stick to the status quo"?

"This fun and wholesome show hits all the right notes with its young core audience." – Talkin' Broadway

How do I get my tickets?
Shortly after your booking is complete, you will receive an e-ticket by email. Mobile tickets are accepted.