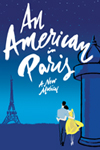 An American in Paris
- Palace Theatre - Broadway
Preis ab € 122.60
'An American in Paris' is the romantic story of a young American soldier, a beautiful French girl & an indomitable European city, each yearning for a new beginning in the aftermath of war. Expierience the heartwarming musical on Broadway in New York.
Fantastisch
4.5
Bewertung von 2 Kunden
Fantastisch
Das Musical spielt in einem wunderschönen alten Theater mitten auf dem Broadway. Wunderbare Atmosphäre. Am Anfang ist das Thema für einen Deutschen nicht ganz unproblematisch. Kriegsende, Besatzung. Aber danach lässt man sich entführen in die Welt des Tanzes und der Musik. Sehr gute Darsteller. Es war ein gelungener Abend
´s wonderful...
Of course I´ve seen the movie and of course I love Gene Kelly. The subtitle is "A new musical", meaning they changed the story a bit, but that doesn´t bother at all. They have absolutely wonderful amazing dance scenes on a very high standard and you often just wonder, how these people up there can be so perfect in singing, dancing AND acting. It has some tiny bit long sequences, but mostly it is entertaining, fresh and has those marvellous dancing parts you just want to fall into and dance with them. I also have to add, that "Liz" is one of the most beautiful people I´ve ever seen. She´s just plain wonderful.